Spring Fling Thing
Winter (or not so much) blues got you down?
Join us in 2016 for an all-new thirst spring event!
ring in the new, the old way
Thursday, February 11th, 2016
Cru (formerly Hierarchy)
Booze, nerdery, dancing*, learning, fun to be had by all.
Doors @ 7, Talks @ 8:30
Speaker Lineup:
*bring-your-own-dancing clause in effect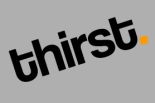 ThirstDC aims to create and foster thought leaders both on and off stage by crafting an informal environment where world renowned experts socialize, interact with, and inspire attendees in a lounge atmosphere.
---
Seems like people dig what we're doing. Nerding! Learning! Flirting!